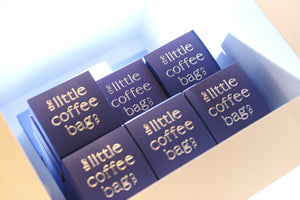 Looking to offer something truly unique?
Coffee snobs are out there - and we're prevalent!
The modern consumer has come to expect convenience, quality and a sense of feel-good with every purchase. Our retail solution provides a stylish box of premium Arabica coffee from across the equator in easy, mess-free bags.
Our packaging is 100% sustainable, including our recyclable boxes and sachets, and biodegradable coffee bags. See our other responsibility measures here.
REQUEST A SAMPLE
The Little Coffee Bag Co. was born out of the desire to enjoy a luxurious ground coffee without the usual trouble and mess left afterwards.
Having been disappointed by what was already available, we decided to create an entirely new product encapsulating what we were looking for. Following a year of research, The Little Coffee Bag Company finally launched in Harvey Nichols in January 2013 with three different blends, before a successful feature on BBC's Dragons Den. We've since worked with a number of retailers, ranging from farm shops to supermarkets.
The Little Coffee Bag is designed to produce a cafetière style coffee made for one. Having worked closely with expert coffee roasters, our range has been created with real dedication to quality and we can say with honesty and pride that only the best Arabica beans from around the world have been chosen.
Each coffee bag is individually wrapped and packed in impeccably stylish, beautifully designed boxes.
What makes us stand out?
Our core values are:
Style | Quality | Sustainability
Our packaging is expertly designed, with silver accents to catch the consumers eye. It's also designed to be space-effective on the shelf (just 9.3cm wide).
Each of our blends are made with quality and the avid coffee drinker in mind. They're refined, well balanced, and contain some of the most popular flavour profiles in the coffee industry. Our coffee bags also contain more coffee than most competitors (10 grams vs avg. 7.5 grams), allowing the consumer to enjoy a perfectly strong cup of coffee.
Our packaging is 100% sustainable. The coffee bag is biodegradable, and all outer packaging 100% recyclable. You can read more about our responsibility measures here.
Request a Sample